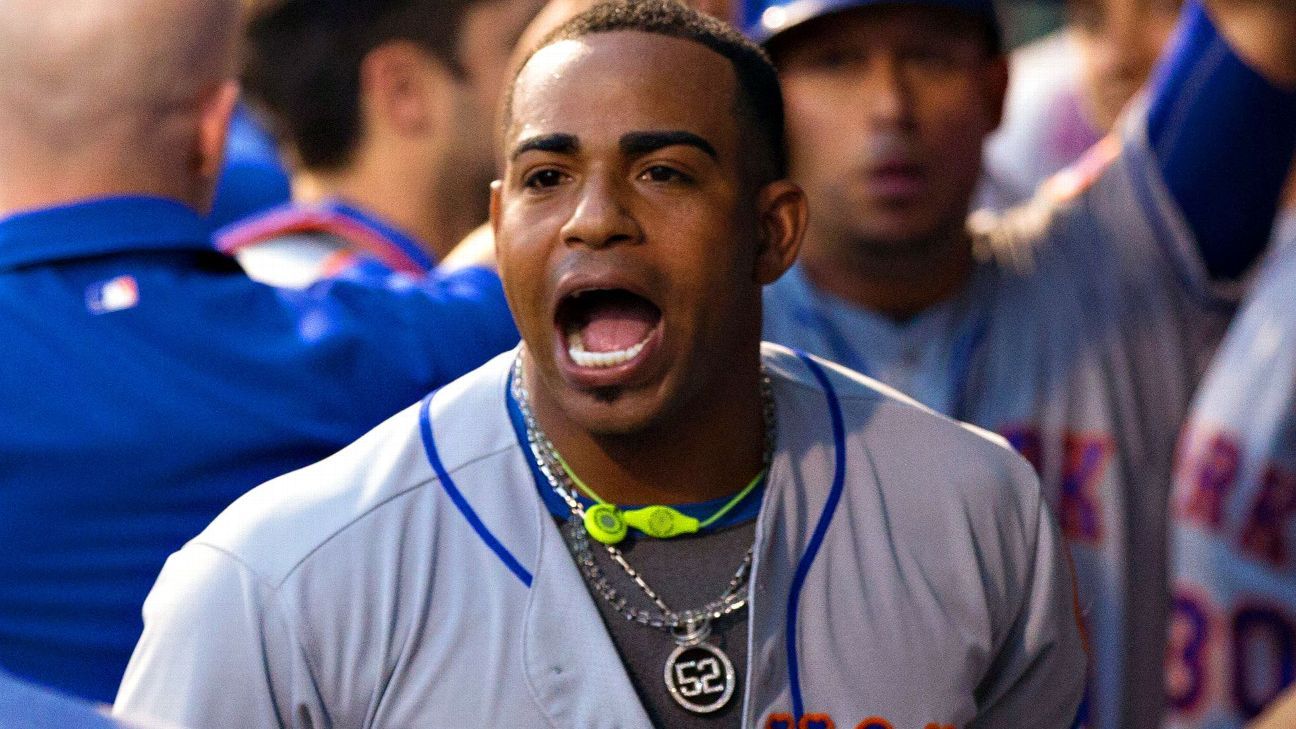 This is what the New York Mets do: They hit home runs. Of course, they don't always hit seven home runs, as they did in a 14-4 victory Tuesday over the Phillies at Citizens Bank Park.
You could also say this is what Matt Harvey does: He gets hurt. Harvey left in the middle of the sixth inning with the team trainer, but those innings of anxiety were eventually calmed when it was revealed he just had a cramp in his hamstring and will make his next start.
That news made it easy to enjoy Yoenis Cespedes' three-homer game. Hey, it's almost as though somebody reminded you not to turn the channel when Cespedes is coming up.
Are you not entertained⁉️ #Cespedespic.twitter.com/22M6pF0HHS

— New York Mets (@Mets) April 12, 2017
Cespedes had two chances at a fourth home run, doubling over the head of center fielder Odubel Herrera and then grounding out sharply to shortstop on a 3-1 fastball from Jeanmar Gomez in the eighth. The Phillies had no game plan for Cespedes, or if they did, it was executed more poorly than the Battle of the Little Bighorn. Cespedes likes the ball down in the zone. Check out these numbers for Cespedes since joining the Mets, courtesy of Mark Simon:
Pitches in upper third of zone: .124 average, .231 slugging, 3 HRs
All other pitches: .311 average, .624 slugging, 49 HRs
Cespedes saw 19 pitches Tuesday; only two of them in his weak zone, one of which he popped up. He swung at eight of the other 17 and made contact on all eight swings, including three foul balls. Cespedes not only hit three home runs, but he pretty much clinched the Best Socks of the Year Award, an under-publicized honor that just can't get any press.
The Mets finished with 14 extra-base hits; only the Rockies did that last season, in a game at Coors Field against the Reds on May 31. This performance reminds us that the Mets ranked second in the National League a season ago with a franchise-record 218 home runs, joining the Orioles as just the second and third teams ever to score more than 50 percent of their runs via the long ball.
It was, however, too much of a one-dimensional approach as the Mets scored just 671 runs, below the NL average of 718. They need more singles and walks in front of those home runs, although the Mets could easily top that 218 figure. Lucas Duda, who hit two home runs Tuesday, played just 47 games last season. Jay Bruce, off to a good start with four home runs, could be another 30-homer bat. Neil Walker played 113 games last season and even Cespedes missed 30 games, so the Mets should score more runs simply with better health. They should finish in the top half of runs, and with their rotation, that has the flavor of a playoff team.
This was going to be about Michael Brantley's walk-off double, but then Francisco Lindor tweeted a picture of his new puppy: I mean … hey, it was National Pet Day.
Let me introduce you Paco's son, Junior #Lafamilia#Lab&Labradodle pic.twitter.com/t1soZ6c5LL

— Francisco Lindor (@Lindor12BC) April 12, 2017
OK, Brantley's hit in the 10th to give the Indians a 2-1 win over the White Sox in their home opener was pretty cool as well. "I don't know if you can write it up any better," Brantley said about playing his first game in Cleveland since May. Needless to say, a healthy Brantley in the 3-hole between Lindor and Edwin Encarnacion lines up as maybe the best trio in the league. Throw in Jason Kipnis when he returns, which probably slides Carlos Santana back to the fifth spot, and you see why this might be the best lineup in the American League.
Hammy and Brantley make for a good combo. #RallyTogetherpic.twitter.com/JZwRF8L4t4

— Cleveland Indians (@Indians) April 12, 2017
Let's talk about the Reds: They're 6-2 after beat the Pirates 6-2 — Scooter Gennett iced it with a three-run homer off Trevor Williams in the eighth, with Williams throwing about as terrible a pitch as you'll see all season, an 87-mph changeup in the middle of the plate. We briefly mentioned Cincinnati manager Bryan Price's creative bullpen usage Monday, bringing in setup guy Michael Lorenzen in the third inning and using him for three innings. After the game, Price explained his thinking as "Don't worry about saves, holds, etc. … Just help us shake hands after the game."
That approach worked again Tuesday, as he pulled starter Rookie Davis after four innings. Granted, he'd thrown 88 pitches and was making only his second start, but Price didn't try to squeeze an extra inning out of the right-hander, even though he'd burned his bullpen for seven innings the day before. Raisel Iglesias closed it out with a five-out save. In Lorenzen, Iglesias and Tony Cingrani, Price has three former big league starters in his pen, guys certainly capable of going more than one inning. Price seems willing to experiment this season with how he uses those guys, and why not, in a season in which the Reds aren't expected to do much.
Kids wearing fake Hunter Pence beards are the best. Even if Pence's beard isn't quite so full these days:
But who's the real @HunterPence? 🤔 pic.twitter.com/KCA3KrStnz

— MLB (@MLB) April 12, 2017
Speaking of kids, look at Troy Tulowitzki's 3-year-old son taking some BP.
Injury update: Update on Adrian Beltre:
Grade 1 right calf strain for Adrian Beltre. #Rangers planning a conservative recovery. No timetable for return given.

— Jeff Wilson (@JeffWilson_FWST) April 12, 2017
Buster Posey was placed on the seven-day concussion disabled list and Jean Segura and Matt Kemp on the 10-day DL with hamstring issues. Neither of those latter two is considered serious, but the Mariners and Braves, respectively, both wanted to play it carefully. The 10-day DL is new this season and an excellent rule, exactly for situations like these, when the 15-day stint isn't warranted, but you're not left short-handed for six or seven games if the guy can't play. This is still somewhat of a fallout of the bloated pitching staffs. The Mariners are carrying 13 pitchers, so if they hadn't placed Segura on the DL they'd have to play with just two bench players.
Quick thoughts:George Springer will make the All-Star team. … Bryce Harper is locked in, and the Cardinals seem to know that as he walked three more times. … My man Robbie Ray tossed 6⅔ scoreless frames as Arizona won in San Francisco, but walked five batters and apparently gave up several loud outs. … The Giants need to find a leadoff hitter, because the Denard Span/Gorkys Hernandez platoon isn't the answer. They had one of the worst leadoff OBPs last season, with Span the primary culprit. … Antonio Senzatela might be a nice find for the Rockies in their rotation. … Matt Harvey note: He threw 11 curveballs and the Phillies swung and missed at every one of them.